The lyric-light soprano, born in Darmós (Tarragona), studied at the Liceo Conservatory in Barcelona, obtaining the title of Interpretation - Voice. Currently, she continues her training with Mariella Devia.
At the age of 16, she made her operatic debut with Lisístrata, an opera by Albert Carbonell, at the National Theatre of Catalonia. She appeared in many occasions in several Opera Studio programs in Barcelona, where she sang The Little Sweep by Britten, Orfeo ed Euridice by Gluck, Rita by Donizetti and Un ballo in Maschera by Verdi.
She has been awarded in several competitions such as the International Singing Competition Montserrat Caballé (2014), Josep Mirabent and Magrans in Sitges (2015) and the Tenor Viñas contest (2016), where she received eight awards.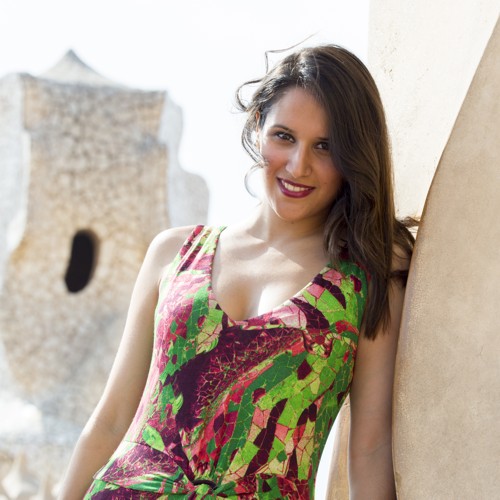 In 2013, she made her debut at the Rossini Opera Festival, playing the role of Folleville (Il viaggio a Reims). In that same year, she also made her first appearance as the Queen of the Night (Die Zauberflöte) at the Sabadell Opera House. In 2015, she made her debut at the Rossini at the Wildbad Opera Festival in Germany with the role of Elvira (L'italiana in Algeri) and went back in 2016 to debut as Adèle (Le Comte Ory).
In Spanish theatres, she sang Norina (Don Pasquale), Serpina (La Serva Padrona), Fanny (La cambiale di matrimonio), Berenice (L'occasione fa il ladro) and Zerlina (Don Giovanni), among others. In recent seasons, Sara Blanch sang at the Teatro de la Maestranza in Seville and at the Verdi Theatre in Salerno (Die Zauberflöte), Gran Teatre del Liceu in Barcelona (Thaïs), Teatro de la Zarzuela in Madrid (Châteux Margaux / La viejecita), Teatro Real in Madrid (The golden cockerel), Teatro Campoamor in Oviedo (L'elisir d'amore) and the Peralada Festival (La straordinaria vita di Sugar Blood). In 2018, she made her debut in France, taking part in the Music Festival in Fête, in the Chorégies d'Orange.
Her most recent and future outstanding commitments: Thaïs in the Teatro Real and the Peralada Festival, Il Turco in Italy in Oviedo, L'italiana in Algeri and L'enigma de Lea in the Gran Teatre del Liceu in Barcelona, Carmina Burana at the Palau de la Música Catalana in Barcelona, L'elisir d'amore in Palma de Mallorca, Lucia di Lammermoor in Perm and L'italiana in Algeri in Turin, among other concerts and recitals.